CUHK Received International Accreditation for Mobile Phone Radio Performance Test Services
"List of activities for which accreditation has been terminated (Notification Letter No. HOKLAS197-7; Effective date of termination: 21 September 2017)"
The fulfillment of the ISO/IEC 17025 requirements means that the laboratory meets both the technical competence requirements and management system requirements that are necessary for it to consistently deliver technically valid test results and calibrations. HOKLAS is operated by Innovation and Technology Commission (ITC) of Hong Kong SAR Government and is a member of International Accreditation Forum (IAF) and International Laboratory Accreditation Cooperation (ILAC).
The R3L Laboratory was established in 2007 with university's strategic investment fund and significant industry sponsorship. The laboratory is equipped with the world class 128-multiple probe spherical near field scanner that is with diameter of nearly 6 meters in a microwave anechoic chamber of 6 by 6 by 7 meters. The OTA test facility supports all the existing wireless communication protocols and is the only university facility of such high caliber in the world.
Prof. Ke-Li Wu, Director of the R3L Laboratory, said over the past three years the laboratory has played irreplaceable role in supporting local wireless industry in product development and test qualification. "Having received the international competence recognition and the world class research capability, the laboratory will provide to the local wireless industry the most authoritative test results and design solutions related to the OTA performance of a wireless product, as well as the Specific Absorption Rate (SAR) that describes the amount of radio energy absorbed by human head," Prof. Wu said.
Generally, OTA test consists of two parts: spherical effective isotropic radiated power (termed Total Radiated Power, TRP) and spherical effective radiated receiver sensitivity (termed Total Isotropic Sensitivity, TIS). The former measures the spatial coverage of a mobile phone antenna system and its effective radiated power. The latter describes the antenna quality when the mobile phone is in receiving mode and the signal coming from all the possible directions. The OTA test method stipulated in the R3L laboratory follows CTIA (International Association for the Wireless Telecommunications) standard test plan.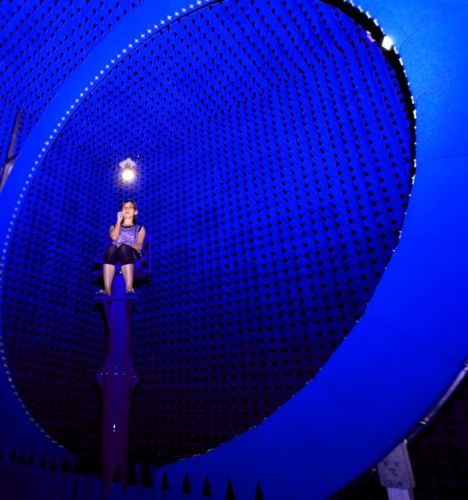 The 128-multiple probe spherical near field scanner in a microwave anechoic chamber.