Blur-SURE for Parametric image restoration

Feng Xue and Thierry Blu
Outline
The problem considered here is the blind restoration of an image

from noisy distorted samples,

, where

is an additive Gaussian noise, and

an unknown, but parametrizable, linear operator. A typical distortion is the convolution with a Gaussian PSF of unknown width (atmospheric blur), or motion blur.
Our approach to this problem consists in, first, identifying the unknown parameters of the distortion, then in using a non-blind restoration algorithm; e.g., our multi-Wiener SURE-LET deconvolution algorithm, when the distortion is a convolution.
The estimation of the parameters involves the following ingredients:
The blur-SURE (Stein's unbiased risk estimate)

which is a statistically unbiased estimate of the blur-MSE, ; here, the noise is assumed to be iid Gaussian with variance , and is the number of pixels of the image.
Minimization of the blur-SURE when is the "Wiener" restoration process that corresponds to the tentative distortion .
It is possible to prove that the minimization of the blur-MSE leads to the ground-truth distortion. The advantage of the blur-SURE is, obviously, that it can be evaluated using the noisy distorted data only.
References
[1] Xue, F. & Blu, T.,"A Novel SURE-Based Criterion for Parametric PSF Estimation", IEEE Transactions on Image Processing, Vol. 24 (2), pp. 595-607, February 2015.
[2] Xue, F. & Blu, T.,"SURE-Based Motion estimation", Proceedings of the IEEE International Conference on Signal Processing, Communications and Computing (ICSPCC'12), Hong Kong, China, pp. 373-377, August 12--15, 2012.
[3] Xue, F. & Blu, T.,"SURE-based blind Gaussian deconvolution", Proceedings of the IEEE Statistical Signal Processing Workshop (SSP), Ann Arbor, USA, pp. 452-455, August 5--8, 2012.
Matlab Software
The Matlab code available here is a demo that exemplifies blur-SURE parametric PSF estimation, with three options: isotropic Gaussian, anisotropic Gaussian and jinc PSF (only their scaling is estimated). This package contains an implementation of the blur-SURE PSF parameter estimation (refs. [1] and [3] here) and of
multi-Wiener SURE-LET deconvolution
. Download the
zip archive
. To understand how to use these files, please read the file
README.txt
or the online help in the routines.
Demo snapshot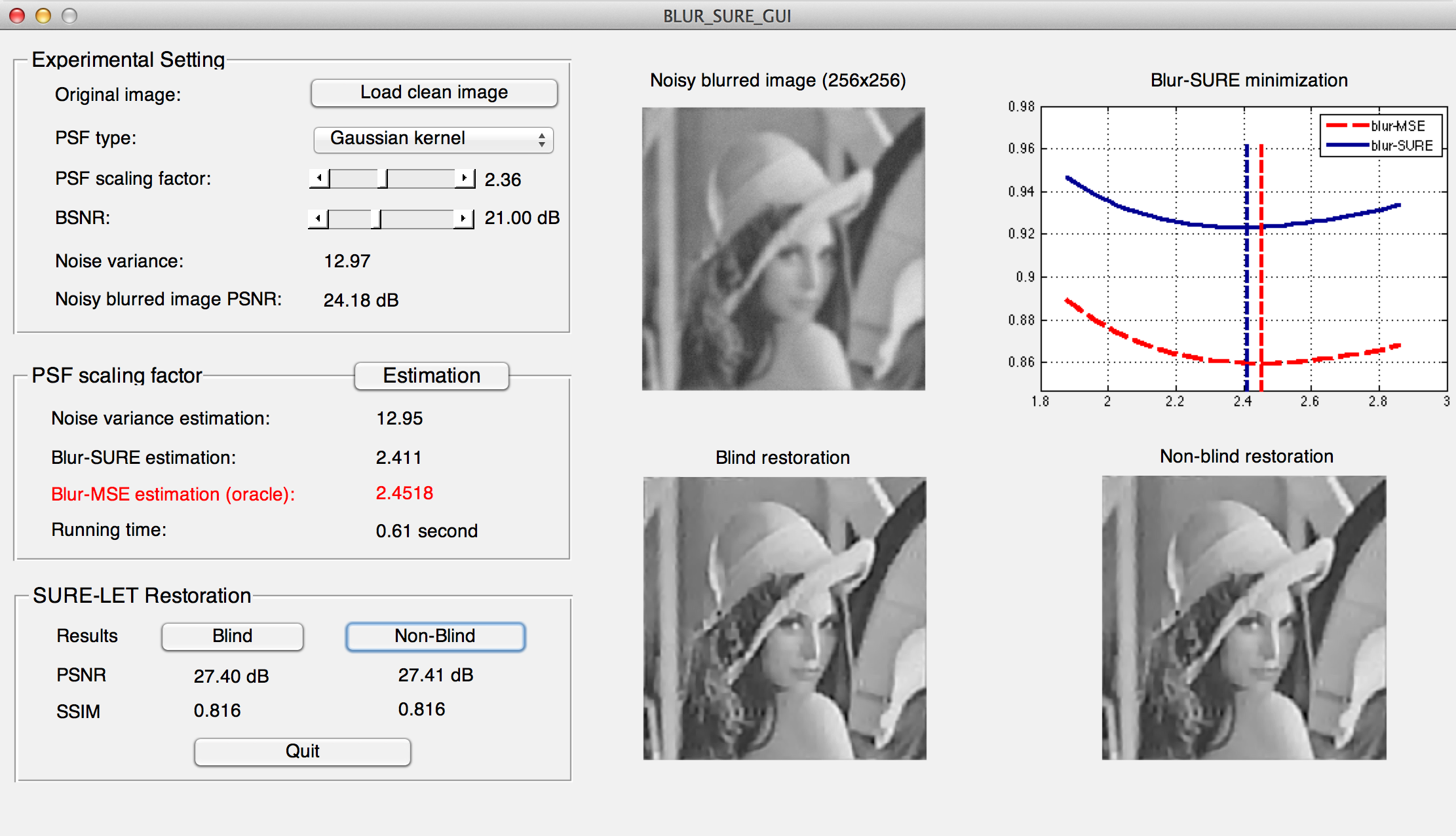 Conditions of use
— You are free to use this software for research purposes, but you should not redistribute it without our consent. In addition, we expect you to include an adequate citation and acknowledgment whenever you present or publish results that are based on it.