Fast and Accurate 3D PSF Computation for Fluorescence Microscopy

Jizhou Li, Feng Xue and Thierry Blu
Outline
The point-spread function (PSF) of a microscope describes the response of this imaging system to a point source or object. A realistic and accurately calculated PSF model can significantly improve the performance of deconvolution microscopy and also the localization accuracy in single-molecule microscopy.
Among microscopy PSF models, Gibson-Lanni's (JOSA-A, 9, 154–166, 1992) is particularly useful since it involves explicitly design and experimental physical parameters. It is based on Kirchhoff's diffraction integral formula:

where the phase term

has an explicit expression involving several physical parameters, and

denotes the Bessel function of the first kind of order zero. k is the wave number of the fluorescent light and NA the numerical aperture of the microscope.
Our approach is based on two ideas: first, express (approximate, actually) the function

as a linear combination of rescaled Bessel functions,

where

are complex-valued coefficients (to be determined by fitting), and

are adequately chosen scaling factors; second, compute exactly Kirchhoff's integral by using the following antiderivative (a and b arbitrary):

Advantages of our algorithm:
Two orders of magnitude faster than the quadrature approach (e.g., see PSF Generator) at same accuracy.
Can be extended to other microscopy PSF models.
Reference
Matlab Software
The Matlab code available
here
(220KB) is a demo that allows to generate and visualize 3D microscopy PSF based on the Gibson-Lanni model. To understand how to use these files, please read the file
README.txt
to understand how to start the demo.
Demo snapshot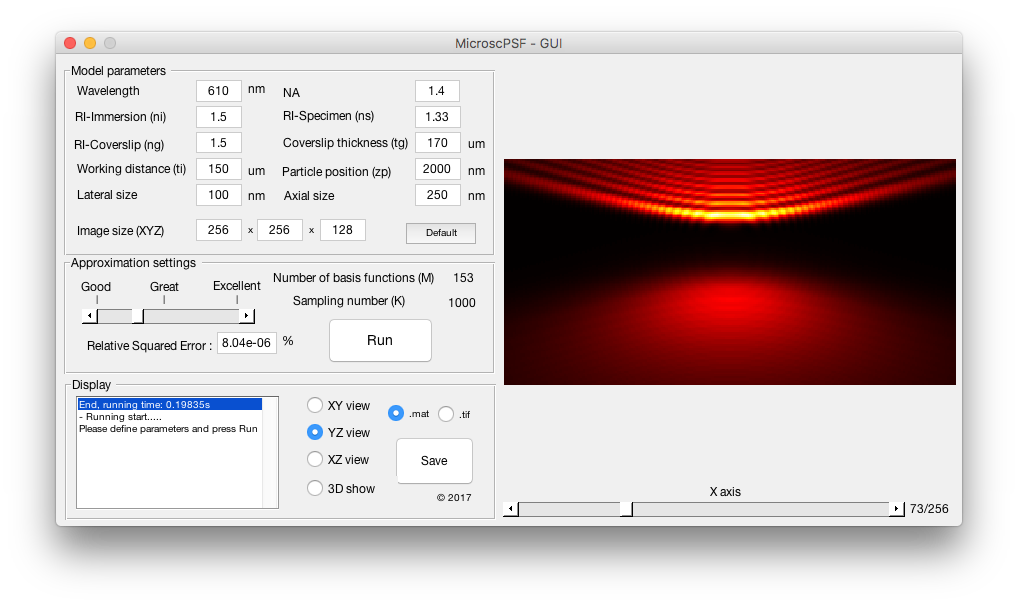 Conditions of use
— You are free to use this software for research purposes, but you should not redistribute it without our consent. In addition, we expect you to include an adequate citation and acknowledgment whenever you present or publish results that are based on it.