Our recent publication on a study of natural movement of artificial eye implant in Robotics and Autonomous Systems, Vol. 32 (2-3) (2000) pp. 153-161 is receiving extensive attentions from the research communities and the media. It was reported in the July 29th issue of the New Scientist Magazine and the U of A Express News. It was featured on the front page of the Aug. 9th's the Globe and Mail, and on Aug. 9th evening TV news programs of CBC News (watch Windows Media Player file), iTV News, A-Channel News, CTV/CFRN News, and other TV and radio stations. The story was featured and I was interviewed live on CBC News World (watch Windows Media Player file) on August 10th. Edmonton Journal had a report on August 10th. Medical Post featured the study in its September 5 issue. PBS features the study in its HealthWeek program in September. Wired magazine has a feature story on the project in its December 2000 issue. Reuters report on the study was cited by world wide newspapers and media. We thank you for your interests, encouragement, and support. We welcome inquiries about graduate study opportunities with us on this and other research projects.

We are interested in funding and collaboration opportunities. Please feel free to contact me or any of the team members, Jason Gu, Al Cook, Gary Faulkner of the University of Alberta, and John Wolfaardt of COMPRU at Misericordia Hospital for further information.
To request a reprint of the paper mentioned above that describes the first generation model of the robotic prosthetic eye (See photo #1 below) and/or to request publications on the second generation model of the robotic eye (See photo #2 below), please click here to send an email to Max.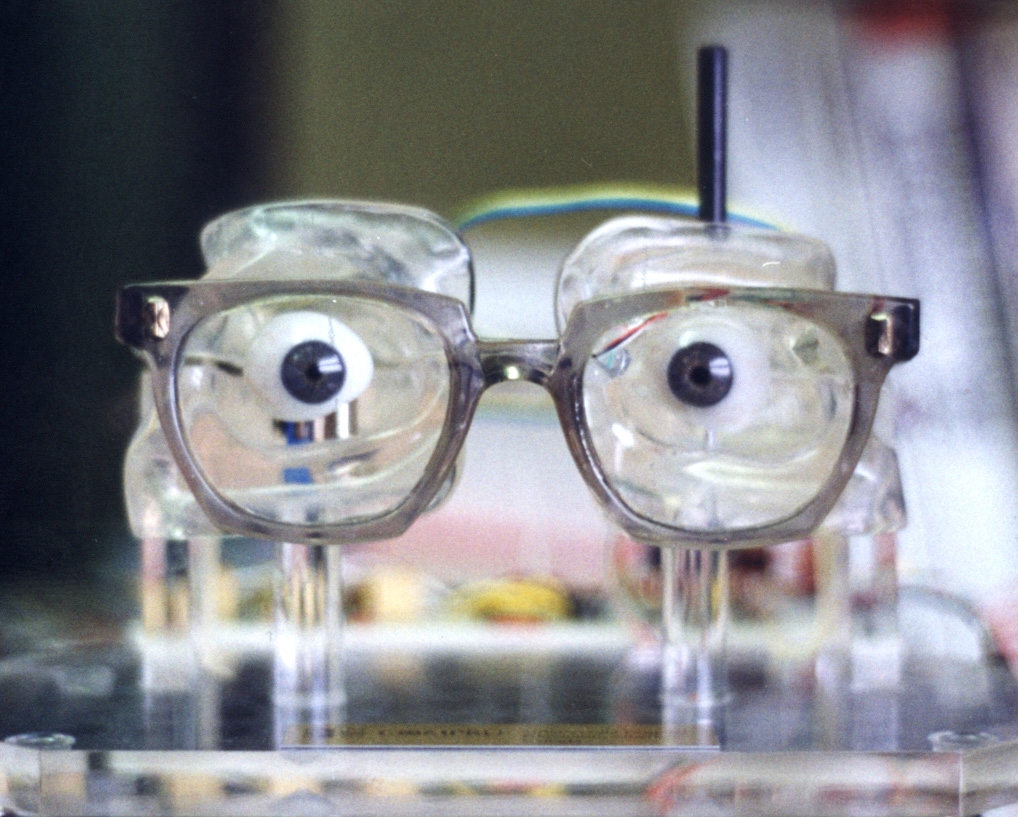 Photo #1 First Generation Model (External sensors)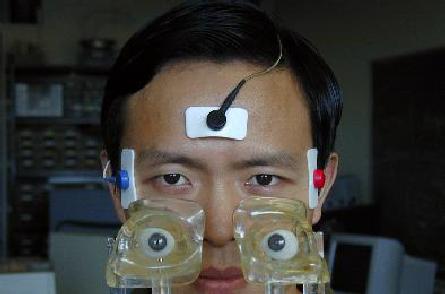 Photo #2 Second Generation Model (Human EOG)
The web pages of the members of the research team:
Max Meng - Professor of Electrical and Computer Engineering
Jason Gu - Assistant Professor of ECE, Dalhousie University
Gary Faulkner - Professor of Mechanical Engineering
Al Cook - Dean and Professor of Rehabilitation Medicine
John Wolfaardt - Co-Director and Co-Founder of COMPRU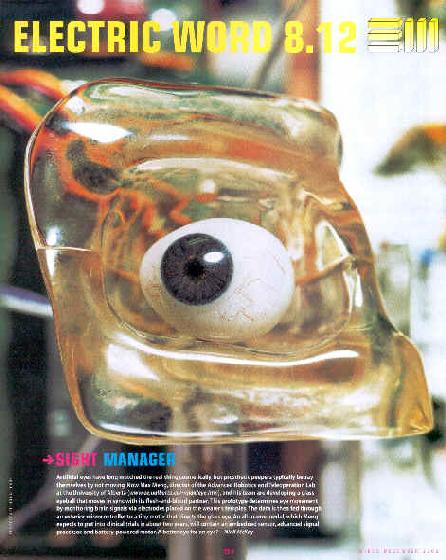 Page 83, WIRED Magazine, December 2000 Issue